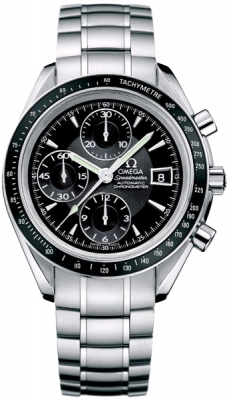 Buying a watch is not an easy decision, i made my first major purchase at 27 and though i wanted to pick up a Moon Watch, i decided its bezel less look was ultimately not my cup of tea. I like an overlaid bezel on my time piece and it was love at first sight when i saw the Speedmaster Date.

To me personally it is still one of the most beautiful watches i have ever seen. Even now, seven years later i still find myself staring at it every once in a while and get plenty of compliments on it. It looks evene better than the Professional and uses Sapphire Crystal glass unlike the Moonwatch which still uses Plexiglass.

The watch itself is quite substantial and i love larger pieces this one looks just about right on my wrist. The dial is a beautiful, very easily readable blue with a large crown in the middle with the Omega logo on it.

It is also quite a versatile timepiece and would work well with a leather strap or nylon strap as it does with the stainless steel. It came with a black, blue, white dial and i actually had to wait for the blue dial as they didnt have a new piece and it had to be flown in from Bangalore.

Last year I had it serviced after five years of use, replaced the gaskets and checked the waterproofing. The crown had to be replaced as it was damaged after an accidental drop. Service is hefty cost 17000 and took nearly 8 weeks.
It has now been discontinued and replaced by the new Speedmaster Day & Date both reside on top of the watch which i particularly dislike. It can be had now for about 20% less than the newer models. Highly recommended.